Hey there, I'm Kevin.
Thanks for dropping by! Exploring healing and spirituality has been one crazy ride – ere's how my journey has been unfolding so far.
Sensitivity as a gift/ curse
As a kid, I was an empath and didn't know it. I could tune into the emotions of others, often too easily. For migrant parents dealing with the pressures of raising a family, this sensitivity wasn't really understood. Understandably, they were both focused on survival and security. Without the education or support systems to look at their own healing, they unconsciously projected their trauma onto each other. Healthy boundaries, emotional intelligence and talking about feelings weren't really a thing in our household.

This took its toll on family life, manifesting as financial strain, intense conflict, verbal abuse, alcoholism, gambling, lies, cheating, depression and eventually a divorce. I felt a lot of this and many nights I'd go to bed with a heaviness in my chest. I believe my inability to regulate my own emotional responses to what was going on led to bouts of asthma and eczema.
Home wasn't a peaceful place so I sought refuge with friends. Just like dad, I turned to alcohol to escape the volatility of home life. It was a crazy/ messy type of fun and everyone else was doing it – binge drinking and partying was the cultural norm.
I began partying, indulging in Sydney's hedonistic nightlife: clubs, music festivals and raves. It was a wild time – I was carefree, irreverent and hell-bent on having a good time. The funny thing was; everyone else was doing it. Binge drinking and partying was not only socially acceptable, it was celebrated and in some ways, idolised. This lifestyle eventually turned self-destructive and landed me in court twice for drugs and drink driving.
In 2010 I moved to London and continued the party lifestyle around Europe. Things got out of hand again and in 2014, I felt disconnected from everything. I didn't know what I was doing with my life. I was spiralling into depression so I booked a flight back to Sydney. That was my rock bottom moment, my dark night of the soul, coincidentally during my Saturn Return.
Now back home, I felt broken. My body began to detox, breaking out in allergies, food intolerances and I even got shingles. I was sleeping on a sofa bed in my mum's house. After 4 years of hedonistic fun, it felt like I'd crash landed back to reality and it was a bitter truth to face.
Emotionally, I was feeling guilty and ashamed but didn't know what to do with these dense emotions. I had hurt people I cared for in London and I didn't trust myself. I was worried I'd hurt people again with my erratic, impulsive behaviour. It was like I was at war with myself, harshly berating myself for ending up here.
I was desperate for a way out and willing to try anything: self-help books, workshops, and meditation retreats. I was a sponge for information. Slowly some concepts started to sink in and I was able to incorporate new practices into my daily routine: analytical psychology, meditation and a lot of self-reflection. I was getting curious about my reactions and behaviour, I started identifying my self-sabotaging patterns, I was growing my self-awareness.
A Lifechanging Trip
This was a very different context from my previous psychedelic experiences. The intention was to explore other realms of consciousness. During the trip, I slipped into a trance-like state and started speaking about emotions, intuition and spirituality. It was the first time I had shared my perspective on these topics openly and it turned out to be an expansive, heart-opening experience.
Although I didn't know it at the time, it was my first experience of conscious channeling. The top of my head was buzzing with energy and I felt connected to everything. Words were flowing through me and I had an innate knowing of which words were for who.
The aftermath of this impromptu healing circle had me shook. My mind was trying to post-rationalise the experience but it was far bigger than I could comprehend. The messages I received the next day inspired me to collate everything I'd been learning and find a way to share this with others.
Introduction To Self–Healing
Despite my nerves, I ran my first 'Introduction to Self-Healing' workshop in 2019 – 8 sessions full of what I'd been learning about meditation, ego and shadow work, emotional intelligence, breathwork, brainwave frequencies, and self-care rituals. Although passionate about these topics, I battled with imposter-syndrome and my self-talk was brutal: "How are you qualified to teach about spirituality? Who do you think you are?"
In early 2020, I ran the second iteration of Introduction to Self-Healing, taking the experience from the first workshops and revising the material with new concepts and information. After all the books, workshops and online trainings, I still felt like an imposter and my inner perfectionist was obsessed with memorising and explaining the information perfectly.
It became clear to me there was a big difference between regurgitating concepts and speaking about them from a place of experience and embodiment.
Up until this point, my healing was very mental and I realised I needed to balance it out with a spiritual practice.
So I did what most seekers do and booked a flight to India.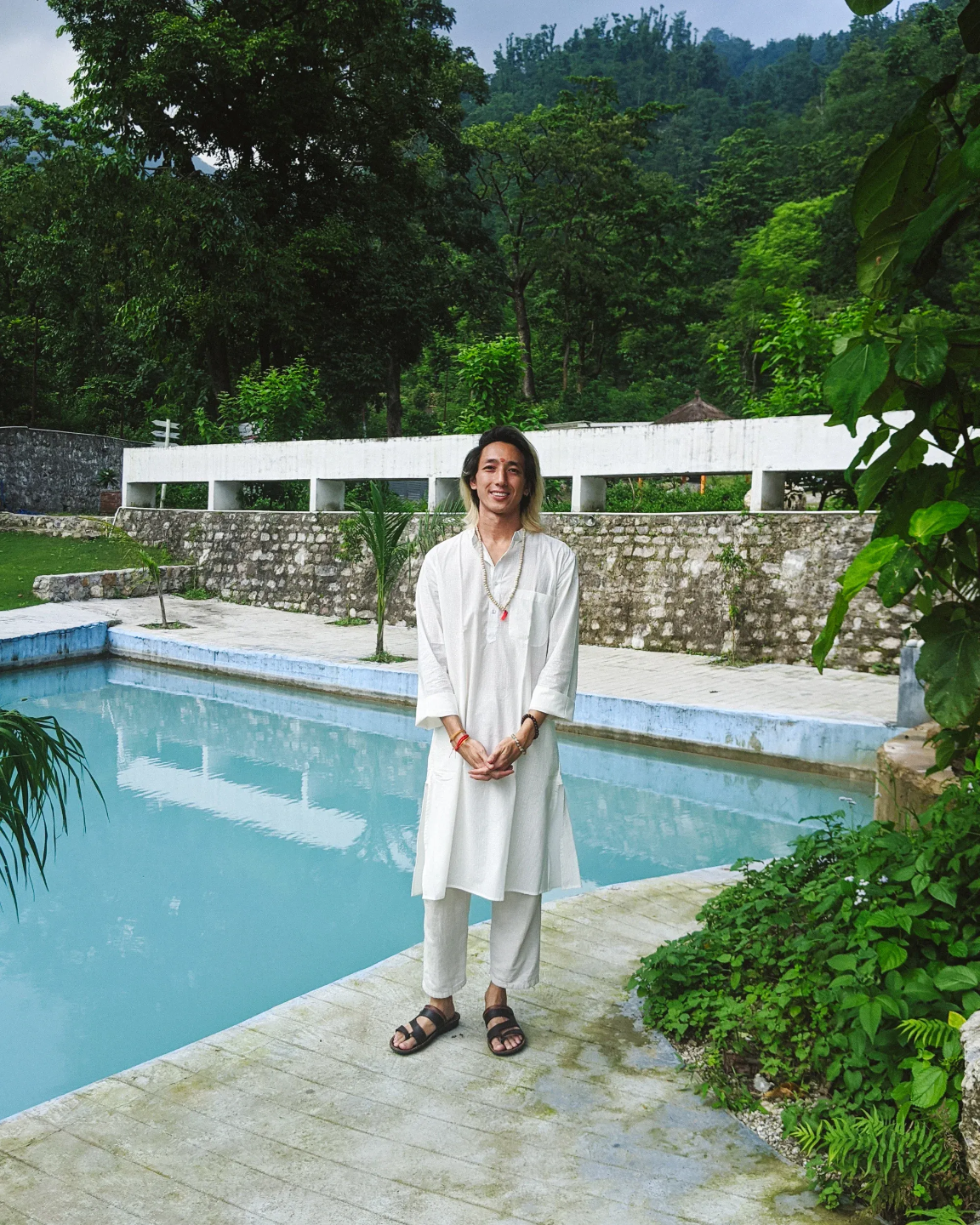 A magical year in Rishikesh
2 weeks into my yoga teacher training course, the pandemic hit and India went into strict lockdown. The global travel restrictions were a blessing in disguise and my 6-week trip turned into a 10-month spiritual pilgrimage. I enthusiastically embraced the opportunity to study the various healing arts that Rishikesh had to offer, from reiki, sound healing and 500hrs of yoga teacher training.
This trip highlighted the importance of Sadhana (daily spiritual practice). Through yoga, breathwork and meditation, I reconnected with my emotions and intuition, and I noticed how my natural sensitivity allowed me to tap into fields of subtle energy. When I finally returned to Sydney, I was inspired to open an inner-city ashram to share what I had learnt. 
Residency at Swami's
In April 2023, I did a month-long residency at Swami's Yoga Retreat. Nestled amongst peaceful bushland in north-west Sydney, this retreat was founded 40-years ago by Swami, a pioneering yogi, philosopher and holistic health expert that helped bring yoga to Australia back in the 60s.
It was great to connect with the retreat guests and volunteers through traditional yoga practices such as asana, pranayama, chanting and meditation, and share the AOT teachings: inner work, embodied dance, balancing masculine and female energy and psychic development.

I also loved chatting with guests about the visions or sensations they experienced during our meditations, and hearing about the newfound stillness/ clarity they discovered after chanting or laying with the sound bowls.

After a month here, I feel like I've unlocked a new state of contentment and bliss. A heartfelt thank you to Swami for her incredible legacy.
Final Words
The journey of learning never ends, it only gets richer as we unlock new layers of perception and understanding. My healing journey continues to show me wounds that need healing, and as I commit and trust the process, I'm gifted with insights and realisations that deepens my empathy and compassion. 
The culmination of my embodied learning is expressed through my 8 Pillars of Inner Work framework – a toolkit of concepts and practices that I've tried, test and continue to refine. 
Although my inner critic still whispers stories of self-doubt and imposter syndrome, the calling of my soul is much louder. My gift to the world is the embodiment of my lived experience. I've learnt how to empower myself through these teachings and it's my soul's joy to share them with others so they can release limiting beliefs, heal their traumas and step into their self-mastery. 
It's an honour and privilege to share my learnings with you,
Kevin